Extra sailings will run through the night at the Port of Dover to help clear the backlog that left passengers stranded for up to 14 hours. 
A spokesperson for the port said they hoped to clear the backlog by Sunday lunchtime, blaming increased Easter traffic, earlier bad weather and delays in French border processing for the long lines of traffic.
The port declared a critical incident on Friday with coaches particularly affected by the traffic.
Some passengers had to spend Friday night in their seats after authorities diverted more than 20 coaches to nearby lorry rest stops because of overcrowding in Dover.
"By the time we reached the port, we joined the queue and seven hours later, we've moved about three inches," said coach driver Ken, who couldn't finish the journey to Italy because of the hours he had already spent sitting in traffic.
"The port was teeming with children getting off the coaches to go to the toilet. If you went into the toilet area it was devastating, it was full of bodies. It was real harrowing," he told Sky News.
A separate coach-load of 13-year-olds had their trip to a football tournament cancelled because their driver had reached the maximum number of hours allowed.
"There's so much traffic in the area that they can't get people into the terminal itself," Simon Lyons, a father chaperoning the trip, said.
"Staff here are being very friendly and helpful but what they're telling us is there's a real lack of French border staff trying to get people checked and into the terminal."
Dover Port has had these passenger volumes before, but since the UK left the EU, additional passport checks take additional time.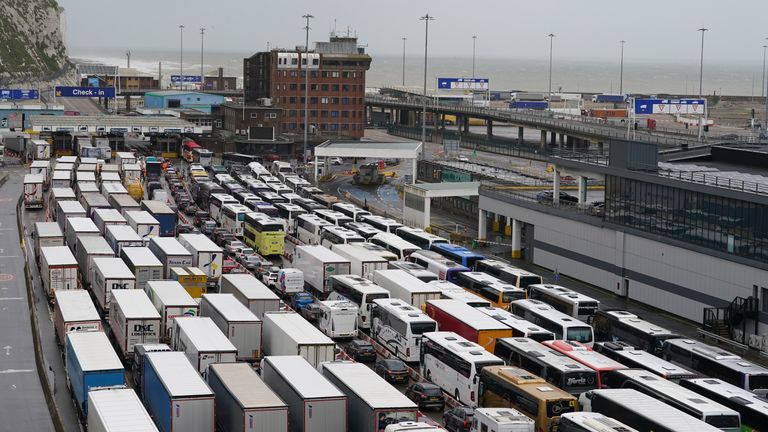 "The difference of living in a post-Brexit environment means that every passport needs to be checked before a vehicle or passenger can pass through to the EU through France. And that happens here in Dover. So it does make processing more challenging," said Doug Bannister, CEO of Dover Port.
P&O Ferries said on Saturday evening that coaches at the cruise terminal were still facing a wait time of up to 3.5 hours before they can proceed to the Port of Dover.
Food and drink had been provided to passengers stuck in the traffic.
The port spokesperson said: "There is still the ongoing situation at the port but both DFDS Seaways and P&O are adding additional departures overnight. Vessels usually have a longer layover at night but they will be running back and forth to clear as much as they can.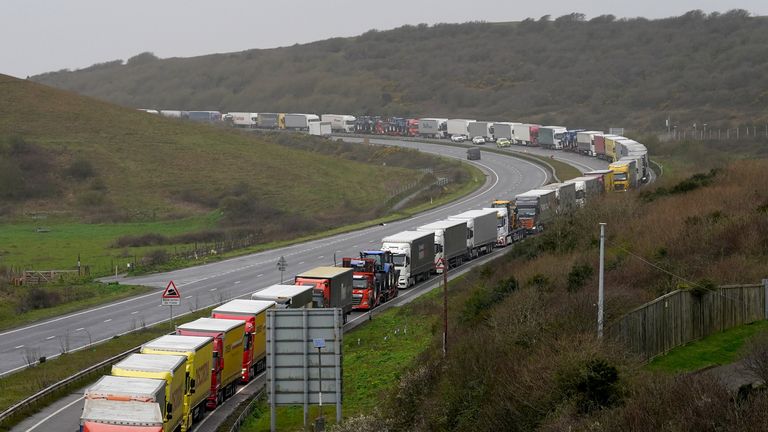 Earlier on Saturday a port spokesperson said he was "deeply frustrated" by the "significant delays".
Labour leader Sir Keir Starmer urged the government to "get a grip" of the situation at Dover.
"I really feel for people trying to get through Dover. There will have been families who have booked holidays and now they are frustrated yet again," he said.
"This is not the first time there have been problems at Dover.
"You can't have every summer holiday, every Easter holiday, the same old problem. And so the government needs to get a grip on this and actually help people out, who are just trying to get away for a few days' holiday."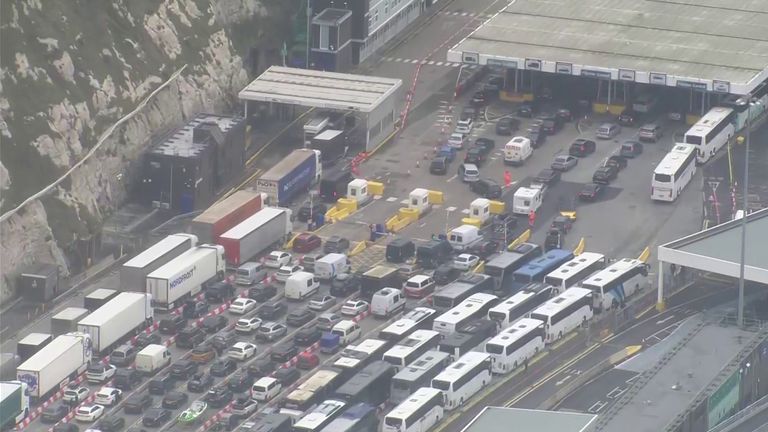 A government spokesman said: "The UK government remains in close contact with ferry operators, the French authorities, and the Kent Resilience Forum regarding delays at the Port of Dover.
"The port has advised that it remains busy but the situation has improved significantly since yesterday, with coaches being processed at a much quicker rate.
"We recommend passengers check the latest advice from their operators before travelling."